A Hashtag Campaign for Everyone With and Without

A

U

T

I

S

M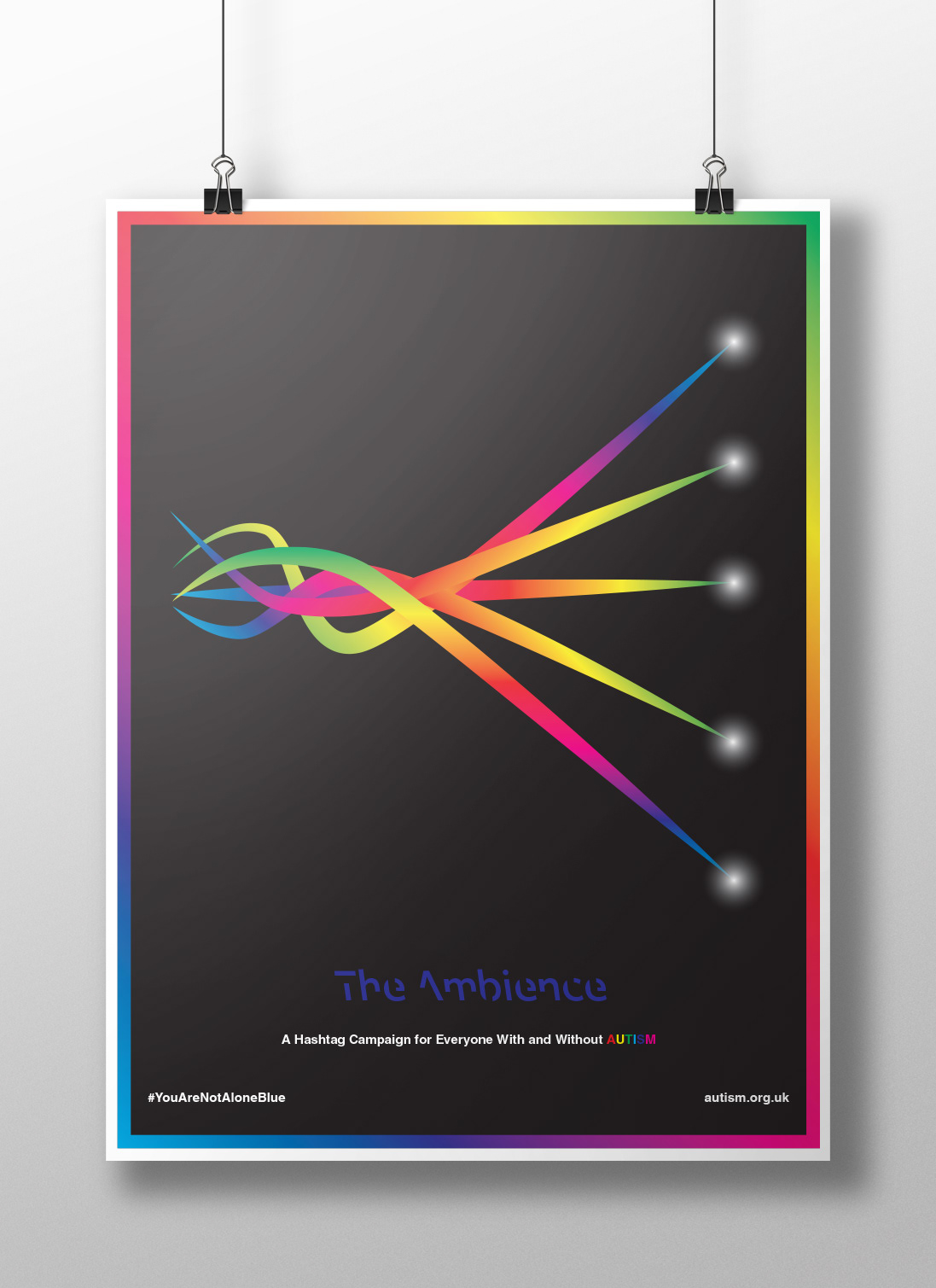 The name, "You Are Not Alone, Blue,"

is based on one of the symbols of autism being criticized and changed. Blue was thought to be the color symbol of autism in the past. But when autistic advocates criticized it, they decided to change the color symbol of autism into the entire color spectrum. A

r

a

i

n

b

o

w

.
But the hashtag campaign is not about the change of the color symbol. It plans to popularize the autism rights movement even more for those who may not know it yet, and for those who do not understand what autism REALLY is.
Posters play different roles around the public eye, the role for the campaign is to educate and "fascinate" the audience by playing sound. They are planned to be designed digitally with various sound effects to tell the audience with and without autism that everyone is "human."
Like watching a cinematic film,

every chosen sound effect can create tension and calmness to the audience, which can give them different types of emotions based on their reaction to the sound that they are hearing.
Every poster plays different sounds, but they have various features. There are 12 posters in total. Half of the number are in "still image," and the others are animated, but each of them will play a sound (or not when displayed on a billboard) that every illustration fits with or represents.
​​​​​​​
The fun fact about sound is that it can play a role to our surroundings and that's what makes autism unique because it is a behavior and a thought condition, but most importantly, autism is none other than a normal human condition.
Adobe XD

(fully released on October 15, 2018) is by theory the next generation for digital and graphic artists and designers. Even web designers, too. This new type of software for a "user experience" can create a new generation of today's era and the future.
​​​​​​​
Even though this website was built around November 2018, there are some features that were waiting to come, including external links to other sites and to display videos and animated GIFs in an XD page. And as soon as these features come to XD, this site will be updated once there will be new software features in Adobe XD.